Complaints
Shawnee Community College is committed to resolving student complaints in a prompt and fair manner. The College works diligently to find positive resolutions to all student concerns. Please try to exhaust all avenues of complaint resolution before going outside the College.
If you have a complaint that needs to be addressed, please follow the process outlined here:
Grievance and Complaint Procedure
Questions regarding the complaint process should be directed to the Vice President of Student Success & Services lisap@shawneecc.edu.
If you are an Out of State student and have a complaint that you feel has not been resolved through the General Student Grievance Procedure, you may file a complaint with the state in which you reside. In compliance with the Federal Department of Education regulations, Shawnee provides this list of State Agencies with contact information for each state: Student Complaint Information by State. You may also contact the Illinois Community College Board when seeking a resolution.
---
State Authorization
NC-SARA (National Council for State Authorization Reciprocity Agreement)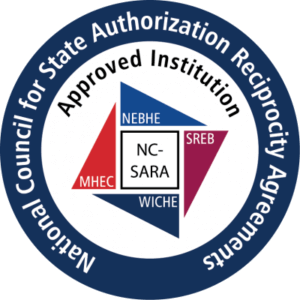 Shawnee Community College is proud to participate in the nation-wide NC-SARA program, which ensures the overall quality of our online programs and allows us to accept online students from nearly any state in the nation.
To access a national map, a list of participating states, and a list of member institutions, visit the main NC-SARA web page.
As a participating member in the NC-SARA agreement, Shawnee is authorized to offer online education opportunities to anyone in these participating states.
For information on student benefits of this agreement, visit this NC-SARA student web page.
SARA has no effect on state professional licensing requirements. Shawnee Community College cannot confirm whether the course or program meets requirements for professional licensure in the student's state of residence. Graduation does not mean licensure approval in your state of residence.

Prospective students who reside outside of the state of Illinois and who are interested in any Shawnee Community College academic program, which may lead to professional licensure, are expected to inquire with the appropriate licensing agency in his/her home state, prior to beginning the program in order to assure that the program is approved to provide the desired licensure.
Basic Nursing Program Requirements
Professional Licensure Directory