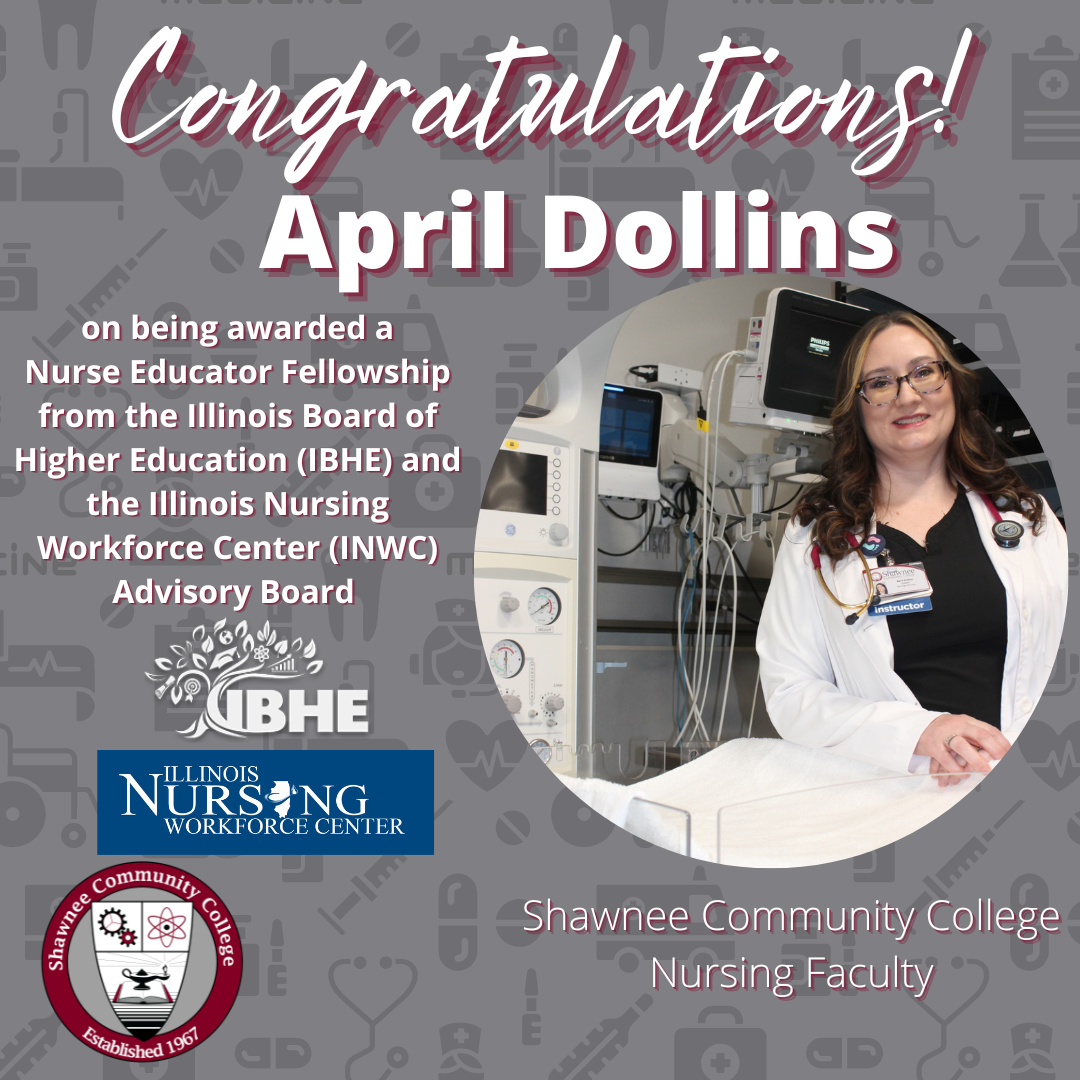 ULLIN, IL (January 6, 2023) – Shawnee Community College is proud to announce Nursing Faculty April Dollins has been awarded a Nurse Educator Fellowship from the Illinois Board of Higher Education (IBHE) and the Illinois Nursing Workforce Center (INWC) Advisory Board. The Nurse Educator Fellowship is a prestigious honor given to highly qualified nursing educators in Illinois. The award recognizes individuals who have demonstrated leadership and dedication to the field of nursing education and promotes nursing education to ensure the retention of well-qualified nursing faculty at institutions of higher learning that award degrees in nursing.
Mrs. Dollins is a full-time, tenured faculty, teaching in both the Practical Nursing and Associate Degree Nursing programs. She is a didactic and lead clinical instructor teaching Growth and Development, Nursing Procedures, Obstetric and Pediatric theory and clinical courses, and Healthcare Diversity. To stay current on skills and practice trends in maternal/child care, Mrs. Dollins continues to work per diem at a birthing center at a local hospital. Additionally, she is a postgraduate student at Northern Kentucky University, working toward her Doctor of Nursing Practice degree, with a completion date of August 2023.
Recipients of the competitive Nurse Educator Fellowship are awarded $10,000. Mrs. Dollins plans to use her fellowship award to assist in completing her DNP degree, attending conferences, and completing an Academic Nurse Educator certification. As part of the fellowship, Mrs. Dollins will also attend the recognition ceremony, collaborate with IBHE and Illinois Nursing Workforce Center in statewide nursing advocacy and attend fellowship meetings.
"I am honored to have been nominated and selected to receive the IBHE Nurse Educator Fellowship award," says Dollins. "Each activity will increase my knowledge and skill and prepare me to create student learning experiences that promote clinical judgment and prepare our students for long-term success. The Fellowship award aids me in carrying out the mission of Shawnee Community College to serve the needs of our nursing students by providing quality higher education and modeling the importance of life-long learning."
"I am extremely proud of April Dollins for receiving the Nurse Educator Fellowship," said Amanda Hannan, SCC Dean of Allied Health and Nursing. "Her intelligence, strong work ethic, and professionalism are unmatched and have made her a valuable asset to our nursing programs. In addition to her impressive teaching skills, Mrs. Dollins is also known for her caring and compassionate demeanor with her students. She truly embodies the qualities of a great nurse educator and is deserving of this award and recognition."
As required as a recipient of this award, Shawnee Community College's Nursing programs are accredited by the Accreditation Commission for Education in Nursing (ACEN). Enrollment for our nursing programs is open through March 31, 2023. Admission to the Practical Nursing and Associate Degree Nursing programs is selective and is offered annually to new students who qualify.