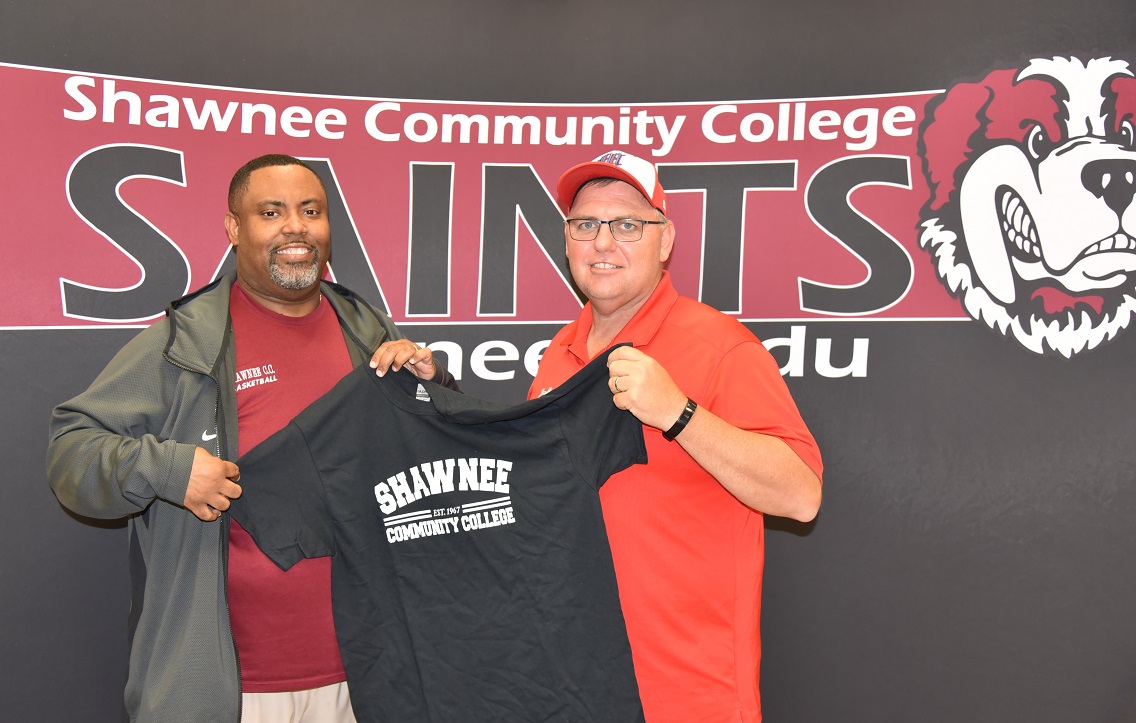 Left to Right – SCC Athletic Director John Sparks & SCC New Head Softball Coach Kyle Smith
ULLIN, IL. – June 3, 2021, One word, excited, that's how SCC Athletic Director John Sparks describes his feeling about Coach Kyle Smith joining the Shawnee College Softball staff. "Coach Smith is a solid coach with extensive experience," says Sparks. We could not have selected a more well-rounded coach to lead our Lady Saints. The depth of knowledge he brings to our program will be felt quickly, and I expect phenomenal results both on the field and in our recruiting."
Coach Smith has been coaching softball since 1999. Like many dads, he started coaching with his daughter's little league team. "I realized that for me to be a good coach, I needed to study the game," says Smith. "I started picking Coach Ron George's brain about the game because he had been doing it for so long. He was a world of knowledge and encouragement. Coach Smith says his love for the game grew as his knowledge progressed. "I started attending coaching clinics in Nashville, TN. And have continued that practice every year."
Attending these annual clinics, Smith gleaned from some of the best college coaches from around the country, including Mike Candrea (University of Arizona, USA Olympic head coach), Cheri Kempf, Patti Gasso, Pat Murphy, Sue Enquist, and countless others that have built up the sport of fastpitch softball over the years. As his knowledge increased, his team became more and more successful locally, so much so, Smith started a travel ball team in 2003 to provide an even greater level of competition for his players.
Smith coached his travel team until 2006. He was then hired as a Murray High School assistant coach, becoming the head coach in 2007 and where he served until 2009. Coach Smith was then hired as the Graves County Head Softball Coach, where he stayed until 2013. One year later, he accepted a position under Coach Troy Webb who is in the Ky Coaches Hall of Fame. "I coached with Coach Webb until I got hired as Massac County's assistant coach under Molly Hargrove in 2019 and have truly enjoyed my time with the Patriots. I am incredibly excited to begin this new journey at Shawnee College." Smith said. "Our region has lots of talent, and I am looking forward to putting together a team that will be competitive in the GRAC."
The new head coach has already begun the recruiting process, and the feeling on campus is that the Lady Saints are headed for great things in the near future.
For more information, please contact Shawnee Community College Communications Department at 618-634-3270 or email robb@shawneecc.edu.