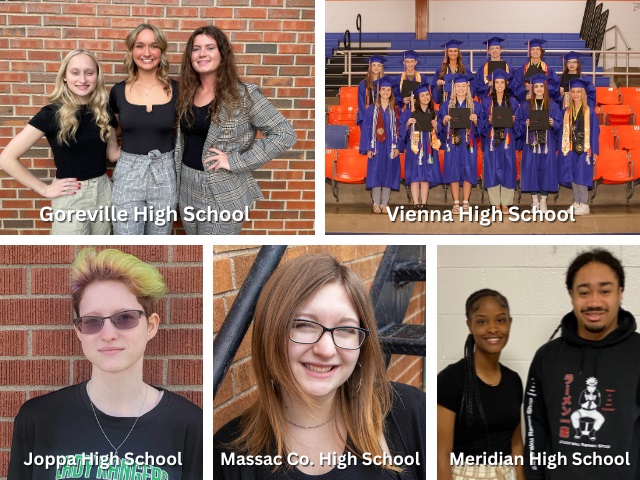 ULLIN, IL (May 8, 2023) – Approximately 200 students will graduate from Shawnee Community College on Friday, May 12, 2023. Among that number, 23 high school students will receive accolades from the College BEFORE they walk across the stage and receive a diploma from their high school.
It's all part of Shawnee Community College's Early College and Dual Credit program. Twenty-two students from Meridian, Vienna, Goreville, Joppa, and Massac County High Schools and one homeschooled student will receive an Associate of Arts or an Associate of Science degree from Shawnee before they graduate high school. In some cases, students will receive both degrees.
"We plan to continue to grow our Early College and Dual Credit to help accommodate students and school district needs. We are so proud of these students for their hard work and dedication," said SCC Coordinator of High School Partnerships and Pathways Teale Betts.
The commencement ceremony at Shawnee Community College will begin promptly at 6 p.m. on Friday, May 12, 2023. We invite you to be a part of this special occasion.
Goreville High School
Kennedy Bishop

Macie Tosh

Calli Wolaver
Homeschool
Joppa High School
Massac County High School
Meridian High School
Laniya Barnett

Roderic Gatewood, Jr.

Cameron Griffin

Fayth Lefler

Laila Warren

Kelsey Whalen
Vienna High School
Kali Browning

Sydney Corzine

Cambell Douglas

Sarah Flick

William Glisson

Dylan Johnson

Izabella Langston

Jillian Stevens

Elisabeth Thomas

Grace VanAusdoll

Natalie Zoeckler